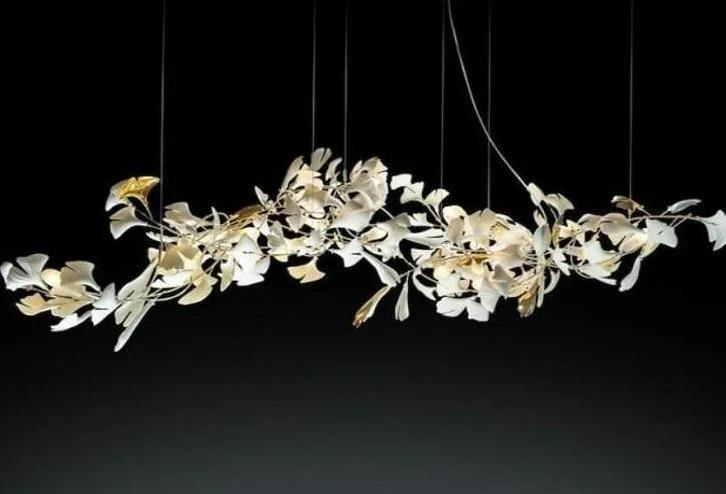 Meet The Flavian Suspension Branch chandelier, a contemporary and nature-inspired chandelier, unique in every way. This gorgeous branch chandelier is made with the highest quality porcelain leaves and freely adjustable wires. The Flavian provides a soft and classic ambiance that is perfect for any room, creating a luxurious feel that is uniquely tailored to your space whether it be a home, office, hotel restaurant, or lobby. Each Flavian chandelier is made to order. Available in various size and shape options.
Dimension:
150 cm ( 60" L ) x 85 cm ( 33.5" W ) x 100 cm ( 39.4" H )
180 cm ( 70.9" L ) x 60 cm ( 23.6" W ) x 60 cm (23.6" H )
200 cm ( 78.8" L ) x 70 cm ( 27.6" W ) x 68 cm ( 26.8" H )
250 cm ( 98.5" L ) x 65 cm ( 25.6" W ) x 65 cm ( 25.6" H )
80"L Cord will be provided, please contact us if you need more.
Notes: If different sizes, finishes, or extra rod length are needed, please message us.

Finish: Gold
Material:Copper, Glass, Porcelain
Bulb Base and Type: G9-LED
Dimmer Switch Compatible: Yes
Installation Type: Semi-Flush Mount
Voltage: 110-240V
Warranty: 2 year
Power Source: Hardwire; professional installation recommended
Certification: UL/CE/SAA
Note:Wipe with a soft, damp cloth; avoid the use of all cleaners and abrasives, as they will damage the finish
Delivery time: 3-15 working days.
Customized Design is Acceptable. The dimension, finish can all be changed. Chat with us first if necessary before you place an order.