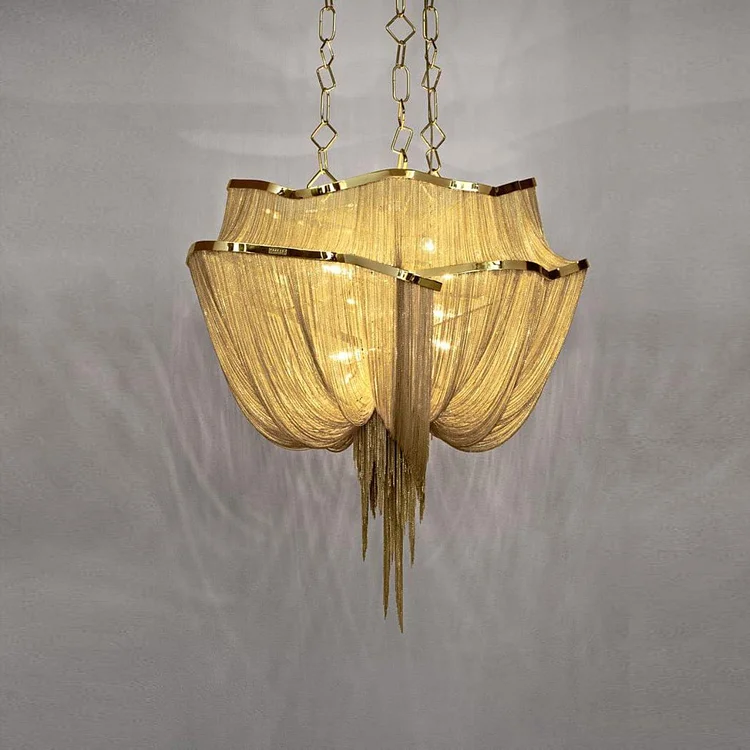 Seemingly alive, aluminum chains shimmering light creates a vibrant source of energy. Its mesmerizing, organic effect is created by hundreds of illuminated lengths of draped, nickel chain. Like water in the ocean, aluminum chains appear liquid, cascading over its gloss nickel bands and falling down towards the abyss before turning back into itself. Atlantis is composed of almost three miles of chain, meticulously hand-crafted by master China artisans.
Product Size
Long size:
Size: Dia 90cm x W 30cm x H 55cm / L 35.4″ x W 11.8″ x H 21.7″
Size: Dia 120cm x W 30cm x H 70cm / L 47.2″ x W 11.8″ x H 27.6″
Size: Dia 150cm x W 30cm x H 73cm / L 59″ x W 11.8″ x H 28.7″
Size: Dia 200cm x W 35cm x H 88cm / L 78.7″ x W 13.8″ x H 34.6″
Size: Dia 250cm x W 45cm x H 110cm / L 98.4″ x W 17.7″ x H 43.3″
Three layers
Size: Dia 65cm x W 50cm x H 147cm / L 25.6″ x W 19.7″ x H 58″
Size: Dia 90cm x W 73cm x H 205cm / L 35.4″ x W 28.7″ x H 80.7″
Details
Material: Metal, Stainless steel, Aluminum chain
Light source: LED bulb or Edison bulb
Light source base type: E14 (as shown below)
Power: Max 15W
Voltage: AC 110-240V
Mounting: Ceiling
Environment: Indoor
Weight: 35kg / 77.2lbs
Battery: No
Driver Required: No
Finishes: Gold, Sliver
Process: Polishing, Electroplating
Control method: push button switch (not dimmable)
Q: Does it support dimming?
A: Whether it supports dimming depends on what type of bulb you buy. If you buy a dimming bulb, this lamp will achieve a dimming function.
The bulb provided by default does not support dimming.
We provide a wire length of 100cm / 39.4″, which can be lengthened upon request.